ALLENDALE FORWARD
It is my pleasure, on behalf of the citizens of Allendale, to welcome you to our town.  We hope you will find this community just as friendly and enjoyable as we have!
Our citizens continue to work together to accomplish our goal of keeping Allendale whole.  The many volunteers of our Neighborhood Associations, Parks, and Planning & Zoning Boards and Commissions show that commitment.
A shared goal of the Mayor, City Council and staff is the dedication to improving the quality of life within the city. The best way to get to know and understand your city government is to attend a City Council meeting. The City Council meetings are held at City Hall, 1296 Main Street South on the second Tuesday of each month at 6:30 p.m.  Your Mayor and Council Members are dedicated public servants who want to hear what you have to say.
Again, we are glad to have you in the community!  If there is any information you would like to know about our city, please do not hesitate to call City Hall at (803)584-4619 during regular office hours.
Sincerely,
Ronnie Jackson
Mayor
---
JOB OPENING:
            Job Title:         Town Clerk                              
            Department:    Administration
            Reports to:      Town Council and Town Administrator
            Salary Grade:   $35,000.00                              
            FLSA Status:   Exempt
SUMMARY.  Assists municipal government with administrative support by performing duties as set forth in Town Code and herein below.  Under limited supervision, provides highly responsible administrative support to the Town Council and the Town Administrator.  Prepares, records, attests and maintains official actions of the Town Council.  Coordinates and assists with all matters related to council meetings, hearings, and workshops (hereinafter simply referred to as meetings).  Attends all council meetings; records and transcribes minutes.  Serves as the custodian of official records and the election officer.  Coordinates and administers codification of the Town Code of Ordinances.  Performs extensive research of records at the request of Town Council, Town Administrator, staff, and the general public.  Maintains effective and efficient office operations.  Reports to both the Town Council and the Town Administrator.
            Appointment.  The town clerk is ex-officio clerk of council. The clerk shall give notices of meetings, post agenda, attend regular and special meetings and workshops, record votes of council, and record minutes of council meetings. The town clerk shall be appointed by and serve at the pleasure of town council and shall report to both the Town Council and the Town Administrator. 
            Bond. Before entering upon the duties of this office, the town clerk shall enter into a bond in such sum as may be required by the town council, conditioned upon the faithful and honest performance of the duties of such office. The cost of such bond shall be paid by the town. 
             Duties.  The town clerk shall have power and authority and be required to:
(1)        Record the minutes of all town council meetings;
(2)        Give notice to all members of the town council of regular and special meetings;
(3)        Record the minutes of the meetings of other appointed committees, boards and  
            commissions as required; 
(4)        Provide report and record-keeping services as required;
(5)        Assist the administrator;
(6)        Updates website and event calendars:
(7)        Perform such other duties as may be required, including but not limited to that
            that appear on the job description.
Essential Duties and Responsibilities include those as set forth in the Town Code above, the following, and any additional duties assigned. 
DISCLAIMER.  This job description is not an employment agreement or contract.  Management has the exclusive right to alter this job description at any time without notice.
DEADLINE TO APPLY: NOVEMBER 15, 2019.
Contact:
Henry B. Youmans, Jr
Town Administrator
---
April 2019 Water, Sewer and Sanitation Bill will show a $9.60 DHEC fee
This fee is to offset the cost of a $12,288 water permit charge that the town pays to DHEC. The town has 1,280 water customers. A $9.60 fee covers the exact amount the town was charged this fiscal year for the DHEC fee.
---
2020 Census Jobs
US Census Bureau is currently seeking for a variety of temporary jobs, including census takers, recruiting assistants, office staff, and supervisory staff. To be eligible, you must be at least 18 years old, have a valid Social Security number and be a U.S. citizen. Visit https://2020census.gov/jobs for more information.
There may be additional roles advertised at https://www.usajobs.gov/.
---
Please click the link below to view the preliminary list of the Town's priorities.
---
Upcoming Events:
Council Meeting: November 12, 2019

Location: Town Hall, 1296 Main Street South, Allendale, SC 29810
---
Water and Sewer Rates Effective July 1st, 2018: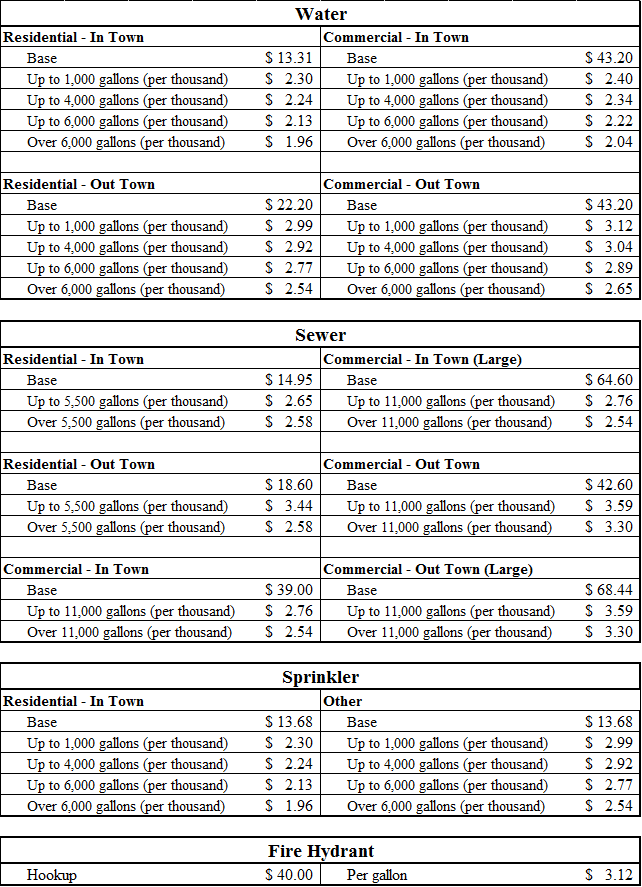 ---
Sanitation Rates:
Residential Garbage Services, Monthly Charge

First Roll Cart

 $            44.50

Each additional

 $              8.00

 

 

 

 

Commercial Garbage Services, Monthly Charge

 

 

Weekly Service 

First Roll Cart

 $            44.50

Each additional

 $              8.00

4-yard dumpster

 $            77.08

6-yard dumpster

 $            97.22

8-yard dumpster

 $          108.39

 

 

Bi-weekly Service

4-yard dumpster

 $          144.16

6-yard dumpster

 $          184.44

8-yard dumpster

 $          206.78

 

 

Apartment Complex

 

per unit charge

 $            22.00

 

 

Overage

 $            55.00

 

 

Change Service

 $          250.00
---